Salad
Salad Shirazi
The Persian house salad of diced cucumbers, tomatoes and onions with lemon vinaigrette and a hint of Persian spices.
Solo / Share / Family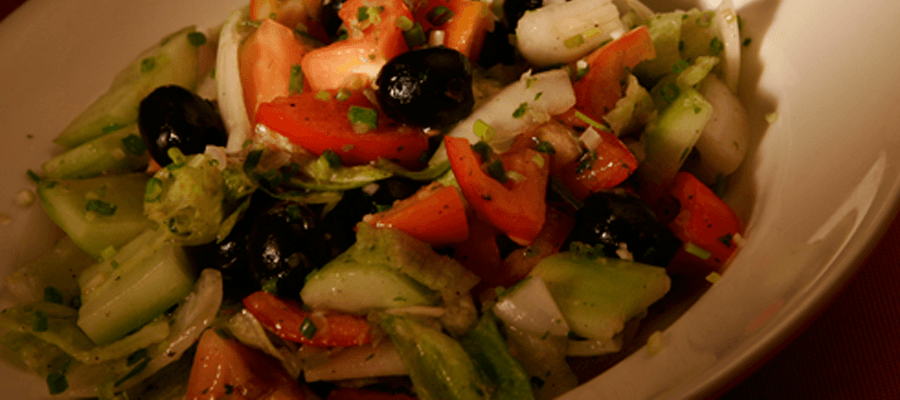 Greek Salad
The classic summer Greek salad of feta cheese, lettuce, cucumber and tomatoes dressed with a Greek spiced infused lemon vinaigrette.
Solo / Share / Family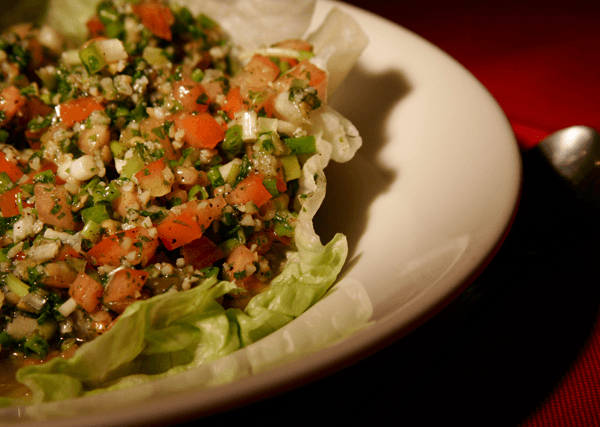 Tabbouleh
The customary Syrian salad made of a mélange of bulgur, delicately chopped parsley, diced tomatoes and onions and dressed with lemon juice and olive oil.
Solo / Share / Family
Turkish Salad
Turkish salad of vegetables dressed in Pomegranate sauce.
Solo / Share / Family
Fattoush Salad
Lebanese bread salad of cucumbers, onions, tomatoes, parsley and mint topped with pita bread and sumac.
Solo / Share / Family
Lebanese Salad
A salad of vegetables and Arabic spices.
Mediterranean Salad
A fruity salad mixed in a European mayo dressing.
Solo / Share / Family
Anatolian Salad
Anatolian salad of diced vegetables dressed in a mint vinaigrette.
Grilled Chicken Garden Salad
The Persian approach to the classic fresh garden salad dressed in balsamic vinaigrette and topped with saffron chicken or tandoori chicken kebab.
Solo / Share / Family
Feta Cheese Shepherd Salad
A Mediterranean shepherd's salad of sliced onions, green chilis, diced vegetables and crumbled feta cheese mixed with paprika vinaigrette.
Caesar Salad
A Hossein's twist to the classic caesar salad.
Solo / Share / Family
Salad-E Olovieh
A Persian chicken salad made with a medley of mayonnaise, potatoes and Persian herbs and spices.

Soup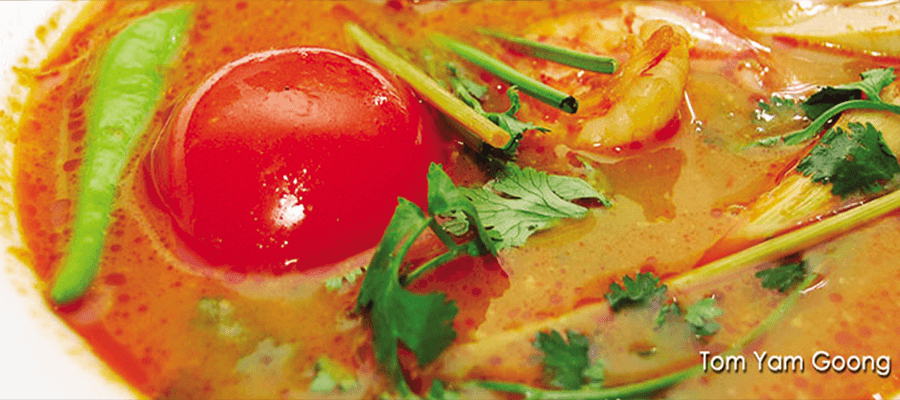 Tom Yam
The classic Thai soup-sour, tangy yet mildly spicy soup of lemon grass, chili peppers, fish sauce and Thai herbs and spices.
Tom Yam Goong
Shrimp cooked in the classic Thai soup.
Tom Yam Plaa
Fish cooked in the classic Thai soup.
Tom Yam Gai
Chicken cooked in the classic Thai soup.
Yakni Soup
The traditional Arabian clear soup-savory, mildly spiced with Arabian herbs and a dash of turmeric cooked carefully in slow fire.
Lamb Yakni Soup
Chicken Yakni Soup
Persian Yoghurt Soup
A hot yoghurt soup cooked in low fire with a medley of Persian spices, Chinese cabbage and lemon salt.
Corn Soup
Mushroom Soup
Onion Soup
Vegetable Soup
Vegetable Corn Soup
Hossein's Soup
Hossein's signature soup—a blend of tomatoes, beef meat balls, Persian herbs and spices and a hint of lime.
Dal Soup
A North Indian soup, sour and tangy cooked delicately with lentils, tamarind and Indian spices.
Shrimp Soup

Bread
Pita Bread
Customary Middle Eastern round pocket bread.
Garlic Pita Bread
Buttered Pita Bread
Chapati
The Indian subcontinent's staple bread of circular flattened whole wheat bread: thin, firm, and baked, a part of India's history.
Lavash
Traditional Persian clay oven baked flat bread.
Naan
South Asian leavened, oven baked flat bread.
Garlic Naan
Buttered Naan
Papadum
A South Asian wafer prepared either toasted in mild heat or deep fried to perfection.
Toasted Papadum
Fried Papadum
Masala Papadum
Fried Papadum topped with a medley of chopped onions and Indian spices.
Roti Channai
Malaysian puffed sweet bread served with a special channai sauce made with a blend of Indian spices. A Hossein's Special.
Roti
The classic Indian flat bread, mildly sweet, cooked delicately in traditional fashion.