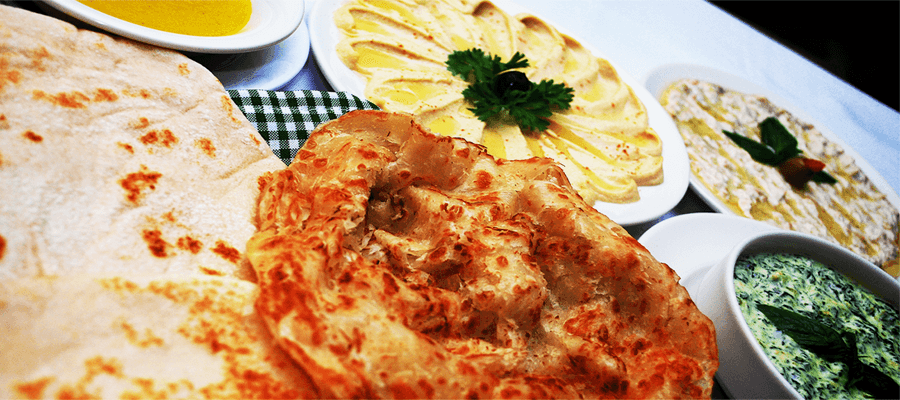 Hummus
Traditional Levantine Arabic mezze of pureed garbanzos blended with Tahini paste, olive oil and Middle Eastern herbs and spices with pita bread.
Solo / Share
Hummus Chicken
Hummus Meat
Moutabal
The classic Middle Eastern starter of smoke roasted eggplant carefully peeled and delightfully mix with Hossein's Special blend of spices, comes with pita bread.
Solo / Share
Mirza Qasemi
A Caspian entree of eggplant, garlic and saffron bounded with a flavorful medley of egg, tomatoes and a gentle touch of turmeric; served with pita bread.
Solo / Share
Kibbeh
Savory patties of grounded meat, blended with Arabic spices and bulgur.
Samosa
A South Asian delicacy of deep fried pastries stuffed either in a medley of savory meat or vegetables, Persian spices, a hint of cumin and Indian essence. Served either with mango chutney, green chutney or Caspian Chili Tomato sauce.
Meat Samosa
Vegetable Samosa
Pakora
A Punjabi special of deep fried fritters coated in Bisan gram flour and served with either mango chutney, Caspian Chili Sauce or vegetable chutney.
Meat Pakora
Vegetable Pakora
Chili Pakora
Prawn Pakora
Pickled Torsi
Traditional Persian vegetable pickles.
Dolmeh
Middle Eastern mezze of stuffing wrapped around cabbage leaves or grape leaves, serve either with yoghurt or Caspian tomato sauce.
Meat Dolmeh
Vegetable Dolmeh
Falafel
An Egyptian entree of flavorful patties made with grounded and mashed chickpeas blended with fresh vegetables and a hint of Arabian spices, deep fried to perfection.
Yoghurt
Homemade Persian strained yoghurt
Yoghurt with Cucumber
Yoghurt with Garlic
Borani
A Caspian delicacy first prepared over millennia ago for the queen of Persia, Boran, whose name was given to the dish in honor of her. The Persian mezze is a blend of yoghurt, eggplant or spinach and Persian species, carefully mixed in traditional fashion.
Borani Eggplant
Borani Spinach
Tzaztziki(Mast-O-Khiar)
Traditional Greek mezze of strained yoghurt, vegetables, olive oil and spices delicately mixed in ancient fashion.
Grilled Halloumi Cheese Kebab
Chili Onion Calamansi Sauce
Chutney
An Indian pickled concoction of cured vegetables or fruit prepared in traditional South Asian fashion.
Green Chutney
Mango Chutney
French Fries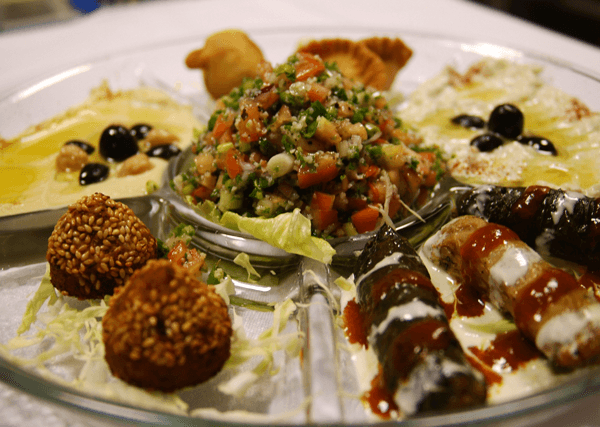 Combo Starters
Salad Shirazi, hummus, Borani spinach, Dolmeh, falafel and vegetable samosa.
Hossein's Appetizers
Hossein's signature appetizers— two sticks of chicken kebab sided with both hummus and moutabal, served with 2 pieces of pita bread.
Chef Starter
The chef's choice of appetizers—hummus, moutabal, kibbeh, dolmeh, falafel and tabbouleh salad served with 2 pieces of pita bread.
Chef Meeze
An array of our bestselling appetizers: humus, moutabal, tzaztziki, samosas and tabbouleh salad served with 2 pieces of pita bread