Rice Specialties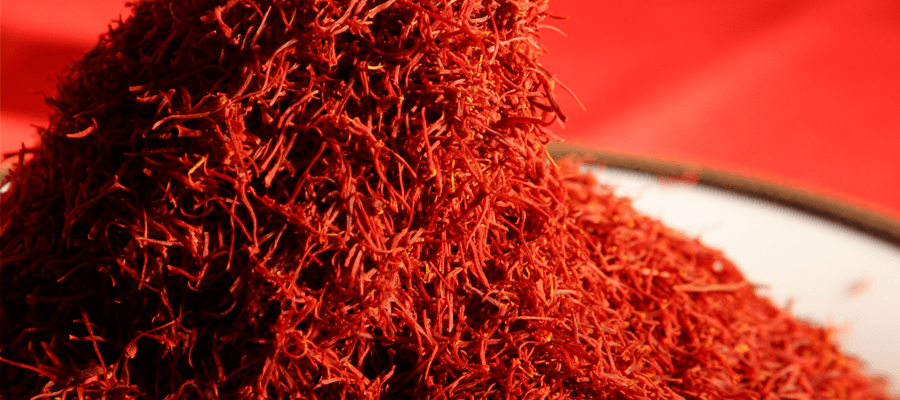 Saffron Rice
Traditional Persian steamed long grain rice delicately cooked with saffron, fluffy and light.
Fried Rice
Long grain rice stir-fried with garlic and bell pepper.
Biryani Rice
The classic South Asian Yellow rice, long grain, fluffy and light cooked delicately with beef, lamb chicken, green peas, fish, vegetables or shrimp then sautéed with Persian essence and Indian spices with a hint of cinnamon and sprinkled with raisins.
Plain Biryani
Beef Biryani
Chicken Biryani
Lamb Biryani
Fish Biryani
Shrimp Biryani
Sabzi Biryani
Mattar Chana Biryani
Green peas, garbanzos cooked in biryani rice.
Nasi Biryani
A Malaysian delicacy of stir fried long grain rice cooked with a medley of shredded veggies and shrimp with Malaysian spices.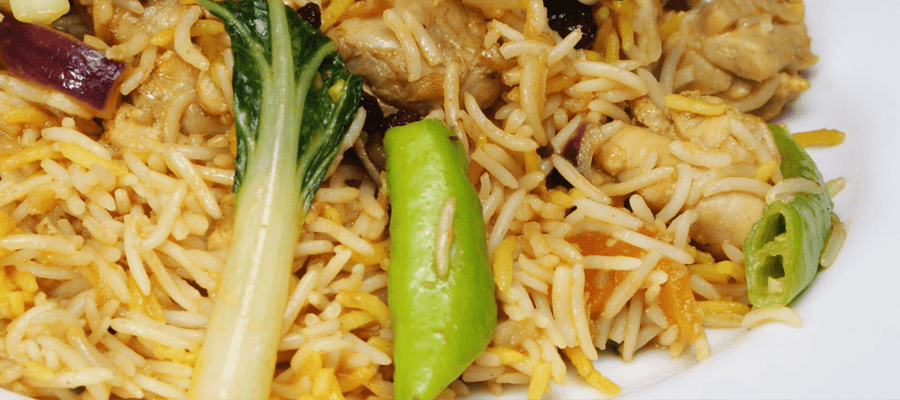 Kabsa
Fragrant long grain white rice cooked in traditional Arabian fashion with a special blend of turmeric, tomatoes and cinnamon and Middle Eastern spices.
Plain Kabsa
Beef Kabsa
Chicken Kabsa
Lamb Kabsa
Fish Kabsa
Shrimp Kabsa
Macluba
A Levantine rice dish of fragrant long grain yellow rice cooked gently in low fire with a blend of Persian essence and Arabian spices.
Beef Macluba
Chicken Macluba
Lamb Macluba
Fish Macluba
Shrimp Macluba
Shanghai Rice
A Chinese inspired dish of fried long grain rice cooked with sautéed veggies, shrimp and topped with scrambled egg.
Nasi Goreng
A Malaysian delicacy of stir fried long grain rice cooked with a medley of shredded vegetables and shrimps seasoned in a medley of Malaysian spices.

Sandwiches
Traditional Persian, Indian and Arabic Sandwiches made with Hossein's signature style and served in the following choices of garnishes: Homos, Moutabal and Yoghurt with pickles and tomatoes
Beef Kebab Kubideh Sandwich
Lamb Kubideh Sandwich
Chicken Tandoori Sandwich
Fried Brain and Spinach Sandwich
Vegetable Tandoori Sandwich
Fish Tandoori Sandwich
Shish Kebab Sandwich
Chicken Kebab Sandwich
Fried Brain Sandwich
Falafel Sandwich
Fish Kebab Sandwich

Shawarmas
Of Arabian origin, Shawarma is a traditional Middle Eastern sandwich wrap.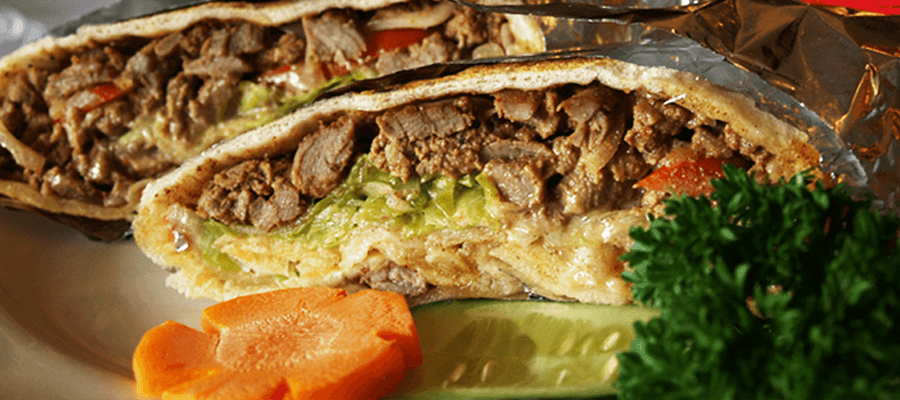 Lamb Kofta Shawarma
Beef Kofta Shawarma
Beef Shawarma
Chicken Shawarma
Lamb Shish Shawarma
Beef Shawarma Salad
Chicken Shawarma Salad
Lamb Shish Shawarma Salad